Weekly Updates
Kicking off summer in VA01
Friend-
The people's House accomplished a great deal of work this June. We passed landmark legislation to combat the opioid crisis. We passed a farm bill that provides security for America's farmers, expands access to rural broadband, and bridges the skills gap through workforce development. We passed a rescissions package that would cut billions in unused, unspent taxpayer dollars. And on top of all of this, we also started voting on the first of our annual appropriations bills to fund our government. I've long believed that if we can't pass all these bills on time, by the end of July, that members of Congress shouldn't get an August recess.

Even with all of the work the House has been up to lately, I've been out and about in the First District this summer. From holding another meeting of my Rural Broadband Task Force to Clean the Bay Day, there's a lot to see. Check it out below!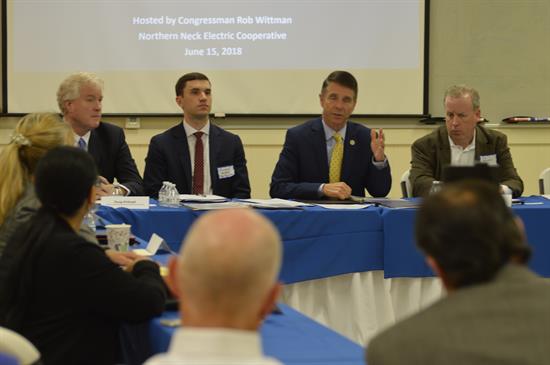 I hosted another meeting of my Rural Broadband Task Force at the Northern Neck Electric Cooperative. We're working with key stakeholders to develop action items and get broadband out to rural areas across the First District.

I joined Rep. Barbara Comstock and Rep. Bob Goodlatte as Speaker Paul Ryan signed this critical bill for Virginia families.

I toured Smith-Midland in Midland to hear how they are growing their business thanks to tax reform.

I stopped by Eastern Virginia Career College in Fredericksburg to hear from students and teachers about ways to improve CTE/STEM programs and cultivate a skilled workforce.

At a Clean the Bay Day event in Montross, I told folks about my legislation, now signed into law, that brings accountability to the Bay restoration efforts.

I visited businesses all throughout downtown Fredericksburg to hear the ways how tax reform and regulatory relief have brought a new sense of optimism to business in the First District.
During Alzheimer'sAwareness Month, I met with ambassadors from the Alzheimer's Association to share my support for Alzheimer's and dementia research funding.
I joined Hanover salutes to honor high school students who have answered the call to military service and discuss my efforts in Congress to restore military readiness.
Great visit with the Aviation Institute of Maintenance in Manassas this morning! We discussed the importance of CTE and training programs, as they are essential in filling the worker shortage and getting students into high-paying jobs.

I met with a leader in CTE/STEM within our PWC Chamber of Commerce and school system to discuss how we can bridge the gap between the education our children get and the skills they need to succeed in today's workforce.

I talked with Eagles Landing Homeowners Association to discuss where we stand in getting broadband out to communities just like theirs.
I had a fantastic meeting with Virginia Secretary of Transportation Valentine. We're working on ways to alleviate I-95 congestion and find innovative financing solutions to replace the Norris Bridge.

My op-eds:
COMMENTARY: The House is committed to stopping the opioid crisis (Free Lance Star)
Surface warfare training and career (The Hill)
In the news:

COMMENTARY: The House is committed to stopping the opioid crisis (Free Lance Star)
Ralph Northam, governor, helps volunteers clean the bay in his backyard (Delmarva Now)
House wants to consider extending life of oldest aircraft carrier (Daily Press)
Navy Study Finds Junior SWOs Have Major Gaps in Seamanship, Ship Handling Knowledge (USNI)
Virginia Congressman To House Speaker: Stay In Session And Pass Bills (WVTF)
Warner also wants more information from Navy on Dahlgren division move (Free Lance Star)
Defense One Radio, Ep. 7: Singapore prospects; Q&A: Rep. Rob Wittman; Trinidad's ISIS; D-Day stories. (Defense One)
Report: 8 out of 10 Navy junior SWOs have deficient ship-handling skills (13 News Now)
Chinese attacks on contractors 'a phenomenon' on the rise (Fifth Domain)
Wittman tours, meets with students at Eastern Virginia Career College (Free Lance Star)
Rep. Wittman On KC-46: 'Boeing – Get It Done. Just Get It Done.' In The Loop Podcast (Breaking Defense)
Up to 20,000 migrant kids may be sent to military bases (Military Times)
Defense Watch: SpaceX Win, DoD Approps Activity, Transcom Nominee (Defense Daily)

Press Releases:

Wittman Votes to Secure Border

Wittman Votes in Favor of Farm Bill

Wittman Statement on Broken Immigration System

Wittman Continues to Fight For Access to Broadband

Wittman Votes to Cut Spending

Wittman Encouraged by First Appropriations Votes

Wittman Leads Letter to Speaker, Cancel Recess

Wittman Continues to Push for Reform of Navy Surface Fleet
I really enjoyed getting out in the community to interact with constituents regarding the issues most important to you. Please do not hesitate to contact me so I can best represent you.

Sincerely,

Rob