Weekly Updates
Weekly Update: Veterans - Better Off Now
Weekly Update: Veterans - Better Off Now
By Congressman Rob Wittman
August 11, 2018

Since the dawn of our nation, our Armed Forces have stood up and fought for our freedom; we sleep soundly because of their bravery. Our Veterans made great sacrifices for us on the battlefield and we owe them a debt of gratitude for that service. Nearly 800,000 call Virginia home, and I am committed to ensuring our veterans can access the benefits they've earned through their service to a grateful nation.

This Congress, the House has made landmark changes for our nation's heroes. America's veterans deserve the highest quality medical care and most efficient delivery of benefits possible. Although the vast majority of employees at the VA are honest and hardworking, it is unfair to the good employees when the VA refuses to or cannot hold bad actors accountable. The Department of Veterans Affairs Accountability and Whistleblower Protection Act of 2017 created a streamlined and efficient process to remove, demote or suspend any VA employee for poor performance or misconduct. The VA MISSION Act consolidated the VA's multiple community care programs and authorities and provides further funding to sustain the Choice Program so veterans can get the care they earned and deserve.

The House has also passed the Forever GI Bill - Harry W. Colmery Veterans Educational Assistance Act to enhance or expand education benefits for veterans, servicemembers, families and survivors, and the Blue Water Navy Vietnam Veterans Act to expand VA benefits to approximately 90,000 sailors who served off the coast during the Vietnam War. I myself have introduced three pieces of legislation that would bring further accountability to the VA.

One of my favorite parts of my job is meeting with veterans around the First District. Below are some of my fondest memories of the past few months: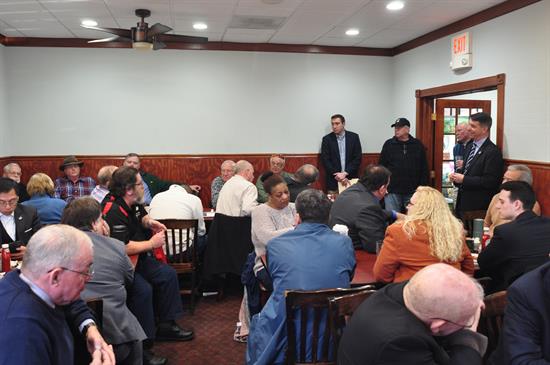 I held a meeting of my First District Veteran's Council where I got to hear from our nation's heroes about what they need from us in Congress to ensure they receive the benefits they have earned.
I spoke at the opening of the new Microsoft Software and Systems Academy (MSSA) program at Quantico. MSSA provides job training to service members transitioning to civilian life and careers in technology. Programs like this provide our veterans with tailored training opportunities to be successful in today's job market.
I held a Voices of Veterans Event in Fredericksburg with House Veterans' Affairs Committee Chairman Roe and representatives from the VA in Fredericksburg for a conversation with First District Veterans.
I had the privilege of thanking some of our nation's heroes in Fredericksburg as they returned home from their Honor Flight.

Our nation's servicemen and women and our veterans have truly made the United States the greatest nation in the world, and I am grateful every day for their dedicated service. We honor the warriors who have given the ultimate sacrifice for our nation. It is up to us now to take care of those who stood willing to make that same sacrifice.