Weekly Updates
What you MAY have missed this month
Dear Friend –
May has been a busy month both in Washington and here in the district. In the district we were able to visit with business owners, students, members of the military, and teachers to discuss ways that we can help. In D.C. we were busy this month passing bills that would provide much needed regulatory relief for community banks, increase veterans' access to care, and set our nation's defense policy. There is much more that needs to be done, including passing all twelve appropriations bills. I have a resolution that says lawmakers aren't allowed to go home in August until we pass the legislation that funds our government. If Congress doesn't get its job done, then it shouldn't go on vacation.
Folks, it is going to be an exciting summer, and I look forward to seeing you in the district. Take a look at what I was up to this May:
Did you know that May was Military Appreciation Month? I had the honor of meeting with sailors on the USS Gerald Ford, the newest aircraft carrier in the fleet, to discuss what Congress is doing to make sure they have what they need to be sucessful at sea. Everyday we are grateful beyond words for the men and women who answer the call to service and defend the liberties we cherish. But each May we take time to thank our current and former service members. I fight every day to make sure our men and women in uniform have the resources they need to protect our great nation.
It was an honor to congratulate the high school seniors who are answering the call to serve and joining the military following graduation. At the Our Community Salutes in Fredericksburg, I talked with VA-01's newest members of the Armed Forces about what we are doing on the House Armed Services Committee to make sure they are equipped with the tools they need to be successful.
I spoke with students at Walsingham Academy on the steps of the Capitol about my job as a representative and how the legislative branch operates.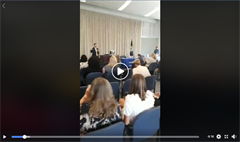 This month, I organized a Career and Technical Education Symposium in Stafford. We connected education institutions with local businesses and the private sector to help ensure the curriculum for our students reflects the needs of our workforce. I believe parents need to understand what opportunities are out there for their children outside of a four-year college track. You can watch the opening remarks here.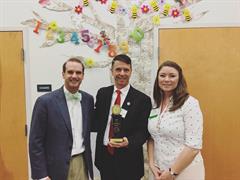 I also toured North Stafford High School's CTE labs to see what they are doing every day to prepare students for the workforce. I spoke to them about what I am doing in Congress to make sure that these programs receive the funding they need to educate our young people.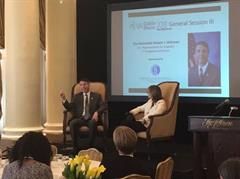 I attended the Virginia Cable Telecommunications Association Annual Cable Show (VCTA) where I discussed the importance of expanding access to broadband in rural Virginia.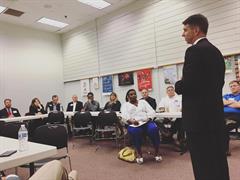 During Small Business Week, I met with the Hanover Chamber. I got to talk with folks about the work I'm doing to expand rural broadband access, cultivate a skilled workforce, and roll back regulations.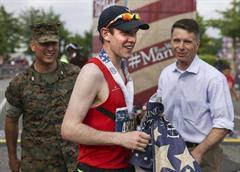 I had the honor of greeting finishers of the Marine Corps Historic Half Marathon. I was able to speak with participants and their families about the issues that are important to them, and how, as their representative, I can better serve them. I specifically told them about the ways my office can help with issues with federal agencies. Photo taken by the Free Lance Star.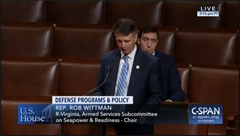 I spoke on the floor last week in support of the National Defense Authorization Act for the Fiscal Year 2019. The bill is the main mechanism through which Congress "provides for the common defense" of our nation. This bill equips, supplies, and trains our troops; cares for them and their families; and sets national security policy in a dangerous world.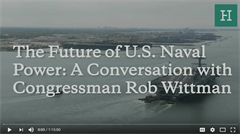 I've led the effort here on Capitol Hill to build a Navy that can face the challenges of today and deter the threats of tomorrow. Specifically, that means creating the conditions for the Navy to grow to 355 ships. My legislation making a 355-ship Navy national policy is now law. But in order to meet this goal, I've continued to work with the Navy and my colleagues in Congress to set the right levels of defense spending, accelerate shipbuilding, and ensure our sailors are equipped at sea.
Listen to my conversation with the Hudson Institute.
MY OP-EDS:
Rob Wittman: Many rural areas need access to high-speed internet
(Virginian-Pilot)
Wittman: We Need An Atlantic Rebalance
(Breaking Defense)

THIS MONTH'S CLIPS
Congressman Wittman hosts CTE symposium at UMW Stafford campus
(Free Lance Star)
Community salutes 181 students entering Armed Forces
(Free Lance Star)
Friday event in King George honors contributions of country doctor Canizares
(Free Lace Star)
Investigation: Budget Battle for the Bay
(10 WAVY)
Virginia Beach conference to connect Navy, area small businesses
(Virginian Pilot)
Rep. Wittman Pushing Trio of U.S. Navy Surface Warfare Community Reforms
(USNI)
House OK's bill to expand veterans' access to private medical providers
(13 News Now)
Navy Looks Outside Budget To Help Build New Boomers
(Breaking Defense)
LISTEN: Congressman ROB WITTMAN on Military Readiness, Rebuilding the Navy and More
(WMAL)
The Future of U.S. Naval Power: A Conversation with Congressman Rob Wittman
(Hudson Institute)
MY PRESS RELEASES:
Wittman, Connolly Introduce Resolution to Honor Public Servants
Wittman Pushes for Rural Broadband Access
Wittman Backs House Passage of Defense Authorization
Wittman Statement on Navy Reestablishing Second Fleet
I really enjoyed getting out in the community to interact with constituents regarding the issues most important to you.
Please do not hesitate to contact me
so I can best represent you.
Sincerely,
Rob