Press Releases
Wittman Receives ACUF's Award for Conservative Excellence
WASHINGTON – Congressman Rob Wittman (VA-01) received the American Conservative Union Foundation's (ACUF) 2016 Award for Conservative Excellence, in recognition of his voting record on key issues and commitment to conservative values. In 2016, Rep. Wittman voted with the ACUF on key issues 96% of the time.

"I'm honored to receive this award because staying true to conservative principles of governance and policy making is a top focus of mine," Rep. Wittman said. "I remain committed to supporting the key conservative tenets of ensuring a strong national defense, empowering individuals while reducing the size and scope of government, and upholding traditional values."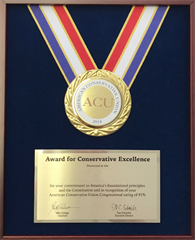 ACUF Chairman Matt Schlapp said, "The 2016 ACUF Award for Conservative Excellence is our highest honor given to those Members of Congress who receive a 90% or above score in our annual ACU Ratings. We applaud Congressman Wittman for his continued support of conservative values, and working to achieve commonsense conservative solutions for the people of Virginia."

The ACUF scored votes on a wide range of issues, including tort reform, repealing the Affordable Care Act, maintaining funding for the prison at Guantanamo Bay, and reducing government spending. For a full explanation of all of the votes visit the ACUF ratings website.

For over 46 years, the American Conservative Union Foundation (ACUF) has rated Members of Congress and the commitment to the conservative values we share by examining their voting record. ACUF ranks 8,000 elected federal and state officeholders every year, and uses the information as an educational tool to inform the public about where their representatives stand on the issues important to them.

Congressman Rob Wittman represents the 1st District of Virginia. He serves on the House Natural Resources Committee and the House Armed Services Committee, where he is Chairman of the Seapower and Projection Forces Subcommittee.