Press Releases
Wittman Receives Sentinel Award for Support of American Service Members
Award recognizes advocacy for American made military clothing and equipment

WASHINGTON - Congressman Rob Wittman (VA-01) today received the Warrior Protection and Readiness Coalition (WPRC) Sentinel Award for his support of American service members.
The Sentinel Award specifically recognizes Rep. Wittman for his advocacy to provide servicemen and women with high quality, American made military clothing and equipment, such as body armor, combat clothing, boots, and helmets.
"Our troops deserve the very best equipment we can provide so they maintain readiness and go into combat with confidence,"
Rep. Wittman said.
"The Warrior Protection and Readiness Coalition and its member companies are leading the effort to make sure our Soldiers, Sailors, Airmen, and Marines have an advantage by providing them with superior gear. I am honored to receive this award and will continue my support for and advocacy on behalf of the troops that keep our country safe."

Warrior Protection and Readiness Coalition Chairman Luke Hillier said,
"We are honored to present the inaugural Sentinel Award to Representative Rob Wittman. Throughout his career, Rep. Wittman has consistently advocated for the best available domestically manufactured gear and equipment for American armed service members. He has demonstrated steadfast leadership on the Armed Services Committee as Chairman of the Readiness Subcommittee and now as the Chairman of the Seapower Subcommittee. We are pleased to recognize his lasting efforts to protect American service members with this year's Sentinel Award."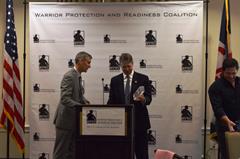 About the Warrior Protection and Readiness Coalition and the Sentinel Award:
The Warrior Protection and Readiness Coalition (WPRC) Sentinel Award is the association's highest honor, presented annually to policymakers who have demonstrated extraordinary support for the American industry that manufactures advanced combat clothing and equipment for the Armed Services.
WPRC member companies strive every day to provide innovative, advanced solutions to ensure that our armed forces are prepared for any encounter, anywhere in the world.